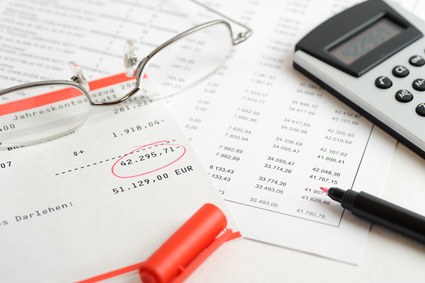 La regolarizzazione di situazioni contabili prevede, a volte, la richiesta di documenti, che può essere fatta per telefono o con poche semplici righe, e la trasmissione degli stessi con una breve lettera d'accompagnamento.
Non abbiamo ancora ricevuto l'originale della vostra fattura n. 277. Me lo può spedire?
We haven't received the original of your invoice n. 277 yet. Can you send it to me?
Controllando i vostri documenti, vedo che mi manca ancora la nota di accredito relativa al nostro reso del mese scorso. Potrebbe farmela avere questa settimana?
Going through our records, I've noticed I still don't have the credit note concerning the goods we returned last month. Could you please let me bave it tbis week?
La fattura allegata sostituisce la precedente di pari numero.
We enclose a new invoice replacing the invoice with the same number.
Vi trasmettiamo qui accluso il Vostro estratto conto trimestrale chiuso al 30 giugno, che presenta un saldo a nostro favore di Euro 15.400.
We enclose a copy of your quarterly statement dated June 30 which shows an unpaid balance of 15.400 Euro
.
Vi informiamo che a tutt'oggi non abbiamo ancora ricevuto la Vostra fattura relativa alla Vostra bolla di consegna n. 98C. da noi pagata alla consegna. Vi preghiamo di inviarcela con urgenza.
We advise you that we have not received the invoice concerning your consignment note n. 98C which we paid on delivery. Please send it as soon as possible.
Vi preghiamo di trasmetterci al più presto la nota di accredito relativa alla metà della fornitura del 12 marzo scorso, che non ci risulta ancora pervenuta.
Please let us have the credit note concerning half the goods we ordered on March 12 as we have not received it yet.
Conformemente agli accordi, Vi inviarno una tratta del valore di Euro 3.800 che abbiamo emesso su di Voi a copertura della nostra fattura n. 889.
As agreed upon, we enclose a draft for 3.800 Euro issued in settlement of our invoice n. 889.
Alleghiamo la fattura n. 983/00 relativa alla spedizione di febbraio.
Please find here enclosed our invoice n. 983/00 concerning the goods we dispatched in February.